our staff are qualified to the highest of professional standards
Dr. Paul McEvoy
B.A., B. Dent. Sc
Dr. Paul McEvoy is the principal dentist in the practice he qualified in 1989 from Trinity College Dublin. Dr. Paul spent several years working in the UK as a general dental practitioner. He took over the practice from his father when he returned to Ireland in 1994. Since then he has expanded the practice, building on the excellent service provided for so many years.
Dr. Paul is a highly progressive dental practitioner who has brought up-to-date technology throughout the practice to maintain the highest standards of dental care.
In addition to running a successful dental practice, Dr. Paul is actively involved in Irish dentistry. He was president of the Dublin branch of the Irish Dental Association.
He was a founding member of the Irish faculty of primary dental care and lectures on several aspects of clinical dentistry most recently he was invited to lecture at the annual scientific conference of the Royal College of Surgeons.
Clodagh O'Dowd
RDH – Hygienist
Clodagh has been working at dentistry.ie since 2001. Clodagh graduated from Trinity College Dublin in 2001 with a diploma in Dental Hygiene.
Our existing patients will know Clodagh very well. She is driven to maintain our patient families oral health to a very high standard, minimizing the risk of dental pain, infections and emergency situations Clodagh aims to run a hygiene program specific to each patient to maximize the benefits of professional oral hygiene.
Clodagh is a registered dental hygienist with the Irish Dental Council.
Dr Laura Beschiu DMD
Specialist Orthdontist
I am a specialist orthodontist, having qualified from the Faculty of Dentistry in Timisoara, Romania as a dentist in 2005 and have completed my specialist training in Orthodontics in 2008. Since then, I have worked in private practices across Europe.
My main interest in Dentistry has always been Orthodontics, as this is a speciality that has a huge impact not only on people's oral health but also on their self-perception and social life. Because Orthodontics doesn't only change teeth, it changes faces.
My main focus is children and teens where their growth potential, if well managed, can lead to favourable results but at the same time, adult cases can be equally challenging and satisfying.
Achieving great results requires hard work, skills and determination and I am determined to continue to learn and improve myself through using innovative techniques and appliances and through continuous professional development courses that I regularly attend.
On a personal level, I like music, reading, travelling and am very happy to live close to the sea.
Dr Michael Koukoulis
B.Dent.S (Hons), Pg.Cert Implant Dentistry
Dr Michael Koukoulis graduated with 'distinction' in 2003 from the University of Glasgow (Scotland). Following completion of his vocational training in the UK, Michael joined the army for a year where he worked as a Dental Officer.
In 2006, Michael completed postgraduate training in Dental Implantology from the University of Warwick (UK) and since then his area of interest lies primarily with the provision of dental implant restorations and limits his practice to implant dentistry.
Dr Jimmy Butt
B.A B. Dent Sc (Hons), MFD RCSI, DIP PCD RCSI
Dr. Jimmy Butt grew up in Lucan Dublin and graduated from Trinity College magna cum laude with a first class degree in restorative dentistry. He immediately began his professional career by being accepted onto the coveted Dublin Dental House Officer post. Here he gained valuable experience across all facets of dentistry. From oral surgery to paedodontics, endodontics and prosthodontics.
A passion for oral maxillofacial surgery culminated in a transition to St Richards Hospital Chichester UK. Dr. Butt worked as a full time hospital doctor managing facial skin cancers and oral surgery lists including wisdom teeth, facial fractures and more. Whilst in Chichester he sat the Royal College Surgeons Ireland membership exams acquiring the MFD RCSI.
In order to gain exposure to complex oral cancer reconstructions Dr Butt moved to Wales working in Cardiff University Hospital, a national trauma and referral centre. Here he acquired experience in soft tissue biopsies, bone grafts and dental implant surgery as well as management of facial fractures.
Dr. Butt is currently studying medicine in Trinity College Dublin and will be one of few dual Trinity Medicine and Dentistry graduates as part of his specialist training pathway for oral and maxillofacial surgery. He has a keen interest in teaching and holds a clinical supervisor post for extraction clinics with undergraduate students in the Dublin Dental Hospital.
His belief is that all patients deserve to have optimal oral health in a calm, painless and judgement free environment. He aims to provide this quality care using the most modern and evidence based techniques.
Dr Evandro Mattos
D.D.S., L.M.D., M.Sc.
Evandro is a highly skilled dentist with 20+ years of clinical experience in all aspects of minor oral surgery and implant dentistry in Brazil, the US, and Europe. He completed dental school and a residency in implant dentistry at the Catholic University of Minas Gerais, Brazil, and holds a Master of Science in Dental Medicine from the Advanced Health Sciences Institute of the North, in Portugal.
He worked in the dental field Boston area for five years, first as an orthodontic assistant and then in a surgical post, providing oral surgery and restorative dentistry in a high-volume clinic affiliated with the Burbank Hospital, in Fitchburg, MA, where he performed over 8,000 surgical procedures. Dr Mattos attained his Fellowship and Mastership from the American Dental Implant Association in 2011, and continually updates his expertise with training in new techniques and best practices. Currently on the faculty of Midwestern University, Downers Grove, IL, he is a dedicated clinician and teacher.
Dr Mattos is proud to offer the most professional dental care to his patients. He also emphasises the human side of dentistry, focusing on the whole patient and their unique dental needs. He is committed to offering patients caring, precise dental treatments, earning their trust and ensuring they are informed and comfortable throughout their treatment.
Dr. Mattos and his wife, Fabiana, have two daughters, Liz and Ana. Dr. Mattos has a solid character, is warm and caring and relates well to people of all ages. He is also fluent in Portuguese and Spanish. Together with his family, he likes a variety of activities such as traveling, reading,listening to audio books, watching movies, and volunteering underserved communities, but most of all Dr.Mattos enjoys spending time with his wife and kids.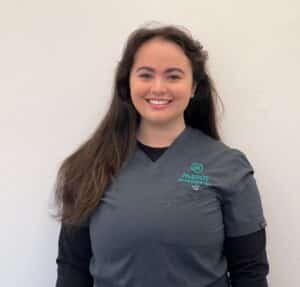 Dr Fionnuala Lyons
B.A, B Dent Sci
Dr Fionnuala graduated with honours in restorative dentistry from Trinity College Dublin. Following from this she completed courses with the internationally accredited Fresh Dental Institute taught by Dr Monik Vasant and is completing her membership of the joint dental faculties with the Royal College of Surgeons Ireland. She is also a member and representative of the British Academy of Cosmetic Dentistry. She was nominated for the Colgate Caring Dentist award in 2022.
Fionnuala enjoys general dentistry and provides a broad range of treatments to patients of all ages. She has a particular interest in aesthetic restorative dentistry and continues to complete training and further learning in order to provide the best possible experience for her patients. Fionnuala is dedicated to creating a welcoming and friendly environment to patients and maintaining the highest standards of dental care.
In her spare time, Fionnuala is a competitive powerlifter and dancer
Dr Darren Hill
Dental Surgeon BDS, MJDF
Dr Darren Hill is a general dental practitioner who qualified in 2018 from the University of Dundee in Scotland. Following this, Darren completed his diploma for membership of the joint dental faculties of the Royal College of Surgeons of England in 2020. Dr Darren spent 3 years working in the UK before moving to Ireland and has since been working in Dublin.
Dr Darren has a passion for postgraduate education, training with many industry leaders in a whole host of areas, including but not limited to crown and bridge, root canal treatment, restoration of implants and crown lengthening surgery. This allows Darren to provide the latest and most innovative treatments to solve dental problems to the highest standards.
Dr Sashkia Darar was born in Scotland to Indian parents and graduated in 2014 with BDS MDS qualifications from the University of Zaragoza in Spain.
Although English is her first language, she also speaks fluent Spanish and worked for one year in private practice in Spain before moving to Ireland to continue her professional career.
Despite having completed several courses and training programs in a wide range of dental areas, her main focus lies with Restorative and Cosmetic Dentistry. With a keen interest for minimally invasive cosmetic dentistry, Sashkia enjoys creating beautiful smiles using a conservative approach. She is passionate about providing excellent dental care in a calm, pain-free and comfortable environment. She has a relaxed and friendly style to put you at ease and build your confidence.
With hundreds of hours of continued professional development and a commitment towards contemporary dentistry, Sashkia strives to stay current with the latest trends, techniques and digital technology. She is completing a 3-year MSc in Restorative Dentistry (University of Edinburgh) and is preparing to become an affiliate of the Irish Royal College of Surgeons where she frequently attends their educational lectures and clinical training programs.
Outside of working hours, Sashkia enjoys unwinding by spending time outdoors, travelling to new countries and keeping a healthy, active body and mind.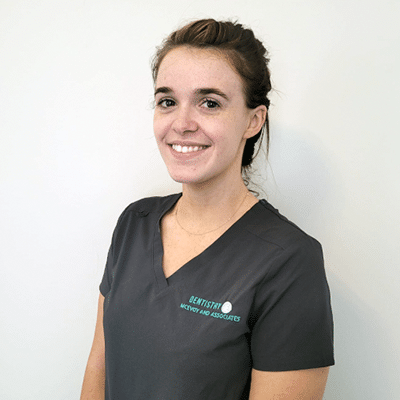 Toni McAdam
Dental Hygienist
Toni McAdam is an enthusiastic registered dental hygienist who completed her studies in 2021 studying at the University College Cork. Having previously qualified as a dental nurse in 2016 she continued her studies and graduated with a Bachelor of Science degree in Dental Practice Management with Oral Health Promotion in 2017.
Toni is very dedicated to the dental health care profession and making sure all of her patients feel comfortable and at ease in a welcoming environment while receiving dental treatment.